VAZGEN MANUKYAN

Armenian national statesman and political figure.



Biography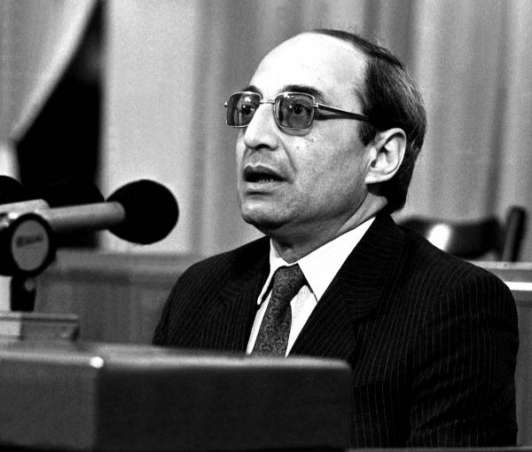 Vazgen Manukyan was born in 1946 in the Manukyan family that had emigrated from Moxoene to Yerevan during the Armenian Genocide.Father, Mikael Manuk Manukyan, was a Doctor of mathematics and physical science, a professor at Yerevan State University.Mother, Astghik Hmayak Hakobyan, was born in Gyumri and graduated from Yerevan State University.
He studied at the school after Chekhov.From 1963 to 1968 Vazgen Manukyan studied at Yerevan State University, from 1966 to 1967 - at Moscow State University, and from 1969 to 1972 he was a postgraduate student at the Novossibirsk Subsidiary of the Union Academy.He holds a PhD in Mathematics and physical science, he is an associate professor, an author of dozens of scientific articles.From 1972 to 1990 he lectured at YSU.
He started his political career during his student years. He had to leave Moscow University to return to Yerevan due to organizing demonstration in front of the Turkish Embassy in Moscow on April 24, 1967.
Until 1988 he was a member-organizer of various political organizations.
He was a member of the "Karabakh"Committee since February 1988. Starting from June 1988 he was the coordinator of the "Karabakh" Committee.
On December 10, 1988, he was arrested along with other members of the "Karabakh" Committee and spent 6 months in "Matroskaya Tishina" prison in Moscow.
He was the first chairman of the Administrative Board of the Armenian National Movement (Armeniantransliterated: Hayots Hamazgain Sharzhum).
In 1990 he was elected a deputy of the Supreme Council of Armenia.
From 1990 to 1991 he was the Prime Minister of the Republic of Armenia. He is the first Prime Minister of the Second Republic of Armenia.
On September 26, 1991, Vazgen Manukyan resigned as Prime Minister.In 1991 he initiated the establishment of the National Democratic Union party together with the active participants and supporters of the movement.In September 1992 he was appointedthe Minister of State, thereafterthe Defense Minister of the Republic of Armenia, at the same time managing the industrial complex of the Republic of Armenia.
During Vazgen Manukyan's governance time the regular Armenian army was formed, the course of the war changed, and when the Armenian side was constantly winning, in August 1993 he resigned.
From 1995 to 2007 he was a deputy of the National Assembly of the Republic of Armenia.
From March 2009 to December 2019 he was the President of the Public Council of the Republic of Armenia.

Awards
Vazgen Manukyan was awarded the "Tigran the Great" order, the "Mesrop Mashtots" order of Artsakh.